May 22, 2020. Blackrock Core Bond BHK (leveraged, risky) LINK TO ARTICLE We are buying a small position, just to get it on the radar. IF we get expected stock market declines in July/August, we will be adding at lower prices. BUY BHK at 5.2% yield.
BHK is a leveraged fixed income fund administered by BlackRock, the largest investment managers in the world. BHK itself invests in a wide array of fixed income securities, including treasuries, corporate and municipal bonds, mortgage-backed securities, and other securitized products. The fund's holdings are reasonably well-diversified across sectors, although there is a strong emphasis on (investment-grade) corporate bonds
__________
Gold is flat, contrary to our expectations. When we checked this morning, gold was indicating higher. We continue holding the gold positions and see potential highs. The positions are very small at the moment presenting small risk. Will be adding if appropriate.
Despite the markets continuing upward, we are maintaining high cash levels at 48% . In addition to the cash, funds are in income producing bond funds. This is an income and dividend blog and that is the objective. We are still expecting a significant pullback in the market averages during July/August.
__________
Newspaper ad revenue collapsing.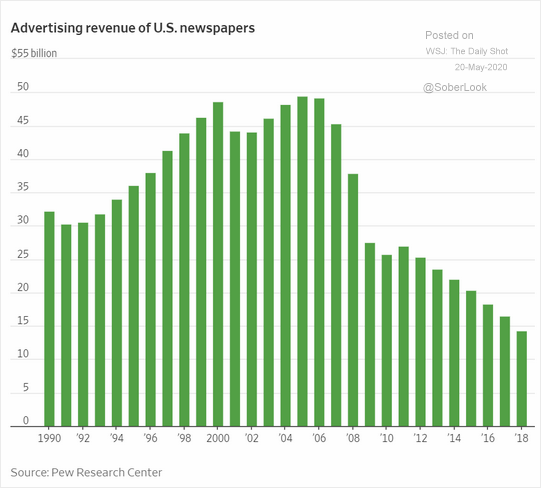 A MUST SEE VIDEO:ON THE ECONOMY AND THE MARKETS:
NOW IN OUR 8TH YEAR. This blog is intended for INCOME investors, NOT growth. Go to the Core Portfolio for current holdings. Don't forget to hit the like button. This blog is designed for retired investors seeking income.