A population exceeding that of the entire United States is under house arrest. (China)
"Human beings have believed in the existence of extraterrestrial life for millennia," he says. "I suspect that any revelation that [UFOs] exist would be met with something close to a shrug." Matthew Hersch, a history of science and technology professor at Harvard University
February 18, 2020. GAINM. Can now be called at $25.00 and we want to take our profits at $25.50. Nice Total Return profit on this position. SELL.
CGBD. The price continues to decline but with the dividends received, we have a tiny Total Return loss. There are problems with this company and we don't want to see further losses. SELL.
We are really getting hurt on the oil/energy positions in the Core Portfolio. It is anticipated that oil will start to recover in April/May and we CONTINUE HOLDING THESE POSITIONS…..and collecting the dividends. (news: As a consequence, tankers filled with oil are now stacking up in ports all over Asia, riding at anchor and waiting for somewhere to offload. Oil prices are plummeting across the globe as producers find themselves with a glut of product.)
Here is a good article on AGNCP, a new position in the Core Portfolio. This is still a BUY.
btw If you own stocks in cruise lines, get out now!!!
__________
The coronavirus outbreak has exposed the United States' dangerous dependence on China for pharmaceutical and medical supplies, including an estimated 97 percent of all antibiotics and 80 percent of the active pharmaceutical ingredients needed to produce drugs in the United States. SCARY: MUST READ ARTICLE
__________
Before starting this blog eight years ago, we were actively involved in 'day trading' buying into the dream that you could make big money in the stock market. Glued to the screen 8 hours a day, following and paying for an 'online trading program', we finally realized that this was a fools game. (Which instigated the formation of THIS blog.)
At the time, we also investigated Online Trading Academy and came to the conclusion it was a SCAM. Well, ten years later the government has finally charged Online Trading Academy. Link to full article, and here are some clips.
btw You CAN make money day trading. But you require the patience, personality, knowledge and training that MOST people do not have. Stay away.
An investment training program called Online Trading Academy (OTA) collected $370 million for classes over six years, misleading predominantly baby boomers in how to time the stock market.
The Federal Trade Commission (FTC) on Wednesday, Feb 12, charged the California-based operation for overstating how easy it was to make money from their exclusive trading system.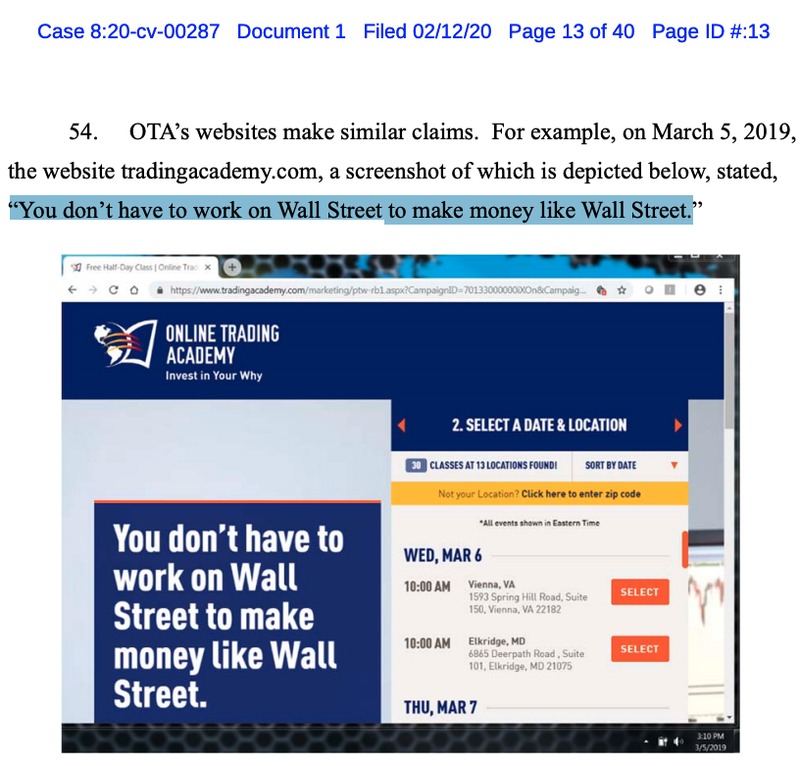 The FTC said retirement-age students paid up to $50k for classes
Major US Companies From Apple to Walt Disney See Revenue Hit by Coronavirus
By Emel Akan February 16, 2020 Updated: February 17, 2020
WASHINGTON—American companies have begun lowering their revenue and earnings estimates to reflect the potential effects on their businesses of China's deadly coronavirus outbreak.
Nearly 40 percent of S&P 500 companies that released fourth-quarter earnings ending Dec. 31 warned about COVID-19, highlighting concerns in financial markets about the impact of the epidemic.
As of Feb. 13, the number of S&P 500 companies that conducted a fourth-quarter earnings conference call was 364, according to the data provider Factset. Of those, 138 mentioned the word "coronavirus" during the call.
Companies in the industrial, information technology, and health care sectors discussed the impact of COVID-19 more than those in other sectors.
According to Factset, nearly 4.8 percent of revenues of S&P 500 companies come from China. However, the average revenue exposure of the 138 companies that discussed the coronavirus is 7.2 percent.
So far, 34 companies have disclosed revisions to revenue or earnings estimates to reflect the loss or uncertainty arising from the epidemic.
For example, Apple Inc. expects revenue to be between $63 billion and $67 billion for the second quarter ending March 30, 2020.
"We have a wider-than-usual revenue range for the second quarter, due to the greater uncertainty," Apple CEO Tim Cook said on Jan. 28, according to the earnings call transcript by financial data provider Seeking Alpha.
While Apple's sales within the Wuhan area are small, retail traffic across the country has been affected by the virus, he said.
"The situation is emerging, and we're still gathering lots of data points and monitoring it very closely."
Cook said that there are Apple suppliers in the Wuhan area that are critical, and hence, the management team is working on plans to mitigate expected production loss.
The coffee chain Starbucks said the COVID-19 outbreak could have "a material impact" on the company's results for the second quarter and the full year.
"Given the strength of our Q1 [first-quarter] results, we had intended to raise certain aspects of our full-year financial outlook for fiscal 2020," Kevin Johnson, president and CEO of Starbucks Corp. said on Jan. 28 during an earnings call.
"However, due to the dynamic situation unfolding with the coronavirus, we are not revising guidance at this time," he said.
According to Starbucks, China accounts for 10 percent of the company's global revenues. The coffee chain announced earlier that it closed more than 2,000 stores—half of its China stores—due to the outbreak.
Walt Disney Co. also announced that it closed its parks in both Shanghai and Hong Kong due to the outbreak, which would negatively affect second-quarter and full-year results.
"The current closure is taking place during the quarter in which we typically see strong attendance and occupancy levels due to the timing of the Chinese New Year holiday," Christine McCarthy, chief financial officer of Walt Disney, said on Feb. 4 during an earnings call.
According to the company's estimates, she said that closure of parks in Shanghai and Hong Kong would cost in the second quarter $135 million and $40 million, respectively.
Other companies that get hit by the epidemic include Qualcomm Inc., Estee Lauder Cos., Expedia Group, Ralph Lauren Corp., and Tapestry Inc. (parent company of Coach, Kate Spade, and Stuart Weitzman).