September 23, 2019 We are fully invested with 9.0% in cash: money to pay bills and a cushion should markets crash. Of course we do NOT expect bad things to happen, altho October has a bad reputation for volatility. The momentum indicators for SPY, IWM and XLF are still pointing UP.
We ARE approaching the top of this financial cycle, after ten years of gains. We do own some high risk positions, but generally speaking most are conservative and income oriented. The sale of the Ferrellgas bonds are high priority but there is simply no buyer for these damn things. The biggest concern are the elections next November, and if it appears the Socialist Democraps would win, we will be selling.
GLADN is called next week, we will be selling another position soon, and we continue trying to sell the gas bonds. Still have a buy order in for OXLCO at $25.34 but do NOT expect it to be filled.
___________
Sometimes we run across some thoughts that really hit home. To sign up for the free newsletter Financial Intelligence Report, go to investyourself.com.
If you would have walked into my HS graduation in 1975 and said that "in the near future there would be 90 different genders, drag queens will read story time to kindergarten kids, Democrats want no National borders, Illegal aliens should get free healthcare, education and drivers licenses, your wages will be stagnant for 45 years, the middle class will decline into poverty, political correctness will be so rampant that you will be fired for calling someone a he or a she, you will have NO privacy, 6 corporations will control 95% of all news content, and 17 trillion in debt will carry negative interest rates…I'm not sure if you'd have been laughed at, or pitied for being mentally unstable. Yet…here we are. So no, I don't hate my country. I've been to several others, and I'm proud to have come from this one. But what it is becoming, is so against what I want it to be, that unfortunately, we've about lost this once great place.
__________
The bat-shit crazy liberal press keeps trying to kill off Trump. But he is now sitting at 52%. The Rasmussen polling Company is considered one of the best:
The Rasmussen Reports daily Presidential Tracking Poll for Friday shows that 52% of Likely U.S. Voters approve of President Trump's job performance. Forty-seven percent (47%) disapprove.
The latest figures include 37% who Strongly Approve of the job Trump is doing and 39% who Strongly Disapprove. This gives him a Presidential Approval Index rating of -2.
__________
We periodically mention (especially for the new readers) the 'worst' investments that you can make. If you don't believe us, just Google the subject and you will get more articles than you have time to read, about how bad these things are:
-annuities, NON traded REITs, hedge funds, and 'alternative' funds.
__________
Just a funny cartoon that we ran across.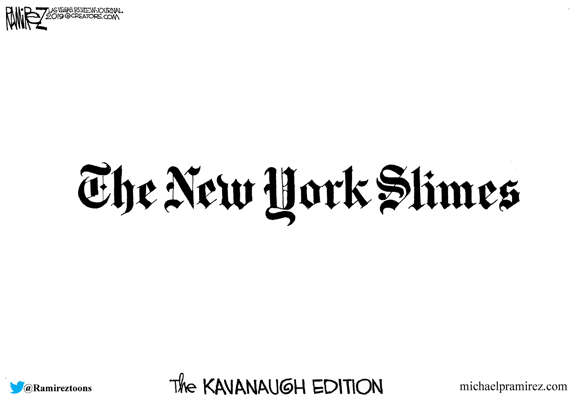 Another high level employee of the New York Times made racist, antisemitic, and disparaging comments on social media.
Jazmine Hughes, an associate editor of the New York Times Magazine, has made a series of racist and antisemitic comments on social media over a multi-year span. A number of the tweets came from Hughes's personal account, which is associated with her Times email, after she was hired by the outletin April 2015 and continued well into 2017
NOW IN OUR 7TH YEAR. NOTE TO NEW READERS: Before you buy anything we discuss here, GO to the Core Portfolio tab to see a CURRENT listing of holdings. This "free" blog is designed for investors seeking income by using preferreds, BDCs, REITs, baby bonds and corporate bonds. Don't forget to hit the like button. Go Here For "About"