July 8, 2019. We are adding to DoubleLine Income Solutions (DSL) which is in the Core portfolio.

Jeff Gundlach the "bond king" is the manager of DSL which includes around 63% foreign corporate bonds. The average investor like us do not have access to these type of bonds so that's why you want to hire the expert. DSL is paying just under a huge 9%. This fund is trading at a discount to the value of the investments. BUY
__________
JOBS REPORT–NOT SO HOT AFTER YOU DIG INTO DETAILS
To summarize: June saw a surge in full-time jobs, as total US employment hit a record high of 157 million workers, however virtually all of this increase was due to workers being forced to get a second (or third, or fourth) job, double- (and triple-)counting those who can no longer make ends meet on one job alone.
In other words, enough ammo for both Republicans and Democrats to praise/slam the Trump economy.
https://www.zerohedge.com/news/2019-07-05/it-wasnt-all-great-news-multiple-jobholders-soar-record-high
__________
We bought IRM and it is down 3%. But this thing is cyclical and momentum is on the way UP. Link to full article below.
In the case of IRM, we see an interesting opportunity because although the data center business is different than the document storage business, I could see how the company's value proposition and capabilities could be extended to data center properties with some slight adjustments.
The company currently pays out an 8% dividend yield and we also see upside potential in the stock. We see the price closer to $38 based on a price/AFFO multiple of 12x on AFFO of $3.05. In 2020, we see even more potential as AFFO should ramp up to $3.23-$3.26.
We rate the stock a Buy and I will be adding it to my portfolio.
https://seekingalpha.com/article/4273309-iron-mountain-moving-data-centers-8-percent-yield-looks-solid
__________
Yes we keep talking the severe decline in the radical left wing fake news CNN. Hopefully they will go bankrupt but that will probably not happen. Even with their ratings declines, they STILL GET substantial income from the cable companies (from the bills YOU pay for cable) and their placement in airports.
The far-left fake news outlet CNN came in 15th place in primetime during the previous quarter and lost nearly 20 percent of its already pathetic viewership.
Here is the full article: https://www.breitbart.com/the-media/2019/07/03/nolte-cnn-death-spiral-continues-with-double-digit-q2-ratings-collapse/
__________
OK more from CNN. Socialist radical failing CNN actually calls Demo Presidential candidates stupid by wanting to give away everything free to everyone. LOLOL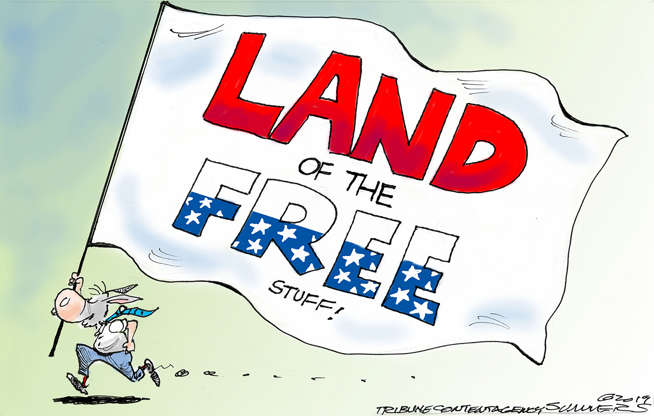 CNN Admits 2020 Democrats' "Voters, You're All Wrong" Strategy Is The Dumbest Ever
Full article: https://www.zerohedge.com/news/2019-07-01/cnn-admits-2020-democrats-voters-youre-all-wrong-strategy-dumbest-ever