May 1, 2019. The markets open at 8:30 AM here in the midwest, 9:30AM eastern.
We bring this up because we want to talk briefly about a cardinal rule in investing: NEVER buy or sell any position during the FIRST 30 minutes of trading (unless you are an experienced full time professional stock trader). If you get anxious and try to buy or sell early, you will most likely get ripped. In the interest of full disclosure we HAVE MADE this mistake many times!! For most people, it is not in their nature to be patient. But in the investing game, it often pays to wait and watch.
Yesterday was an example. TRGP (we had recommended as a buy) was running at $40.80 for the opening 30 minutes. We had a buy order placed at $40.60. Would you believe that at 9 Central (30 minutes after opening) it suddenly dropped to $40.60 (our target price) and we got filled.
If you were not patient you would have paid the $40.80. BAD.
Never trade during the first 30 minutes. You WILL get screwed.
__________
Sales of cigarettes comparing Q1 2018 vs 2019—these are all Altria brands MO. Wow, talk about crashing. (We were seriously thinking about buying MO a few months back…..would have been a lousy buy.)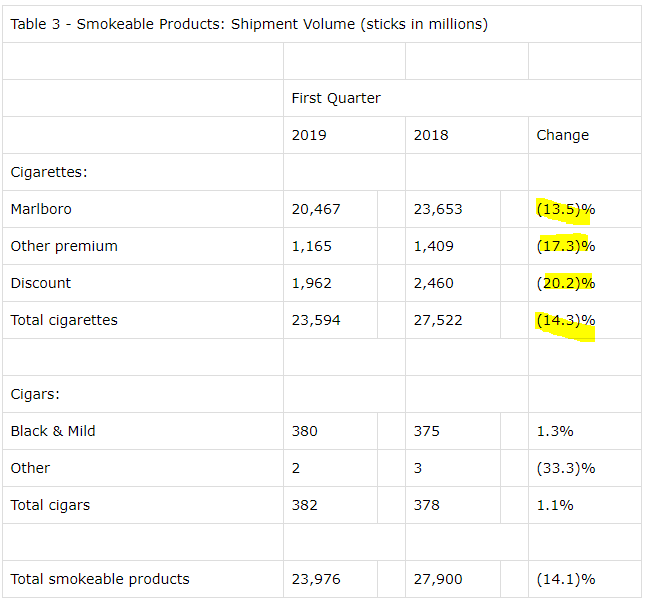 NOW IN OUR 7TH YEAR
NOTE TO NEW READERS: Before you buy anything we discuss here, GO to the Core Portfolio tab to see a CURRENT listing of holdings. This blog is designed for investors seeking income.
Keep scrolling down for more. And don't forget to hit the like button. Go Here For "About and Links"