August 13, 2018.  We bought IHIT in December.  It has been stable, paying 6%.  It is going ex-dividend today, paying five cents per share.  IHIT usually drops to around $9.83 after going ex-div.
We suggest a BUY LIMIT order at $9.85, and just WAIT for the price to drop, which may take a few days.
_____
We own BXMT in the Core Portfolio.  Here is a link to a positive article.  In our opinion it is too late to buy now.  HOLD.
Blackstone Mortgage Trust, Inc. (BXMT) is a promising income vehicle for investors that seek high, recurring dividend income and capital growth from one of the leading commercial real estate finance REITs in the country. Blackstone Mortgage Trust has a strong, largely floating rate loan investment portfolio that is poised to deliver net interest income gains in a rising rate environment. I consider the dividend to have a high margin of dividend safety, at least as long as U.S. commercial real estate continues to produce stable returns. An investment in Blackstone Mortgage Trust yields 7.5 percent.
https://seekingalpha.com/article/4198490-blackstone-mortgage-trust-7_5-percent-yielding-cre-finance-reit-still-buy?app=1&isDirectRoadblock=false
_____
The late nite Trump hating TV shows get a lot of attention in the liberal press.  BUT did you know their viewership is tanking!!!!
Now, if you happened to miss this, well, you are not alone. The fact is that nobody is really watching late night television anymore. Ben Domenech over at The Federalist points out that the late-night viewership of ABC, CBS, and NBC COMBINED is barely breaking 8 million viewers total. Just to give you a sense of how far things have plummeted for late-night television, not so long ago Jay Leno, who replaced Johnny Carson, was bringing in 6 million viewers all on his own. Johnny Carson could score 9 million viewers; nearly 20 million people watched his Tonight Show farewell. Now the total of all three network shows combined are bringing in basically what Jay Leno got on his own.
https://www.turleytalks.com/blog-summary/ratings-for-late-night-liberals-are-imploding
_____
FUN FACTS.  Did you think Amazon was the largest publicly traded Company.  Think again.  It's actually down the list as number seven.  Here is a list of the largest Companies in the S&P.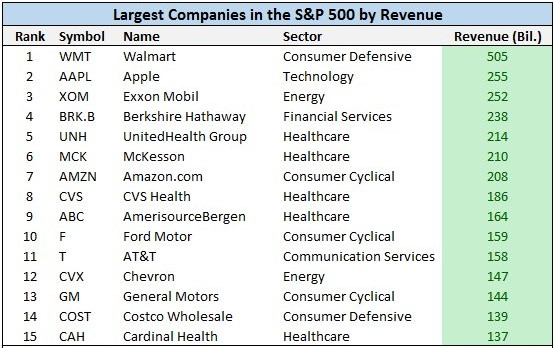 MOVIES:  The Meg.  We shrieked in horror when we saw the trailers for the new shark movie.  It seemed so bad as a rip off of the original shark movie….younger readers are probably not even aware of the first version.  But, this flick is actually very good.  It is getting bad reviews, but if you want simple Summer entertainment, and are not expecting Gone With the Wind, go see this.