July 16, 2015  An excellent article on the rise of Trump…….yeah you know who I'm talking about: http://www.politico.com/magazine/story/2015/07/the-appeal-of-donald-trump-120162.html?ml=m_t1_2h#.Vaf82rVcLh5
 __________
You just have to laugh at those moronic 2016 Republican Presidential candidates.
Hillary, will get the women and black voters. Republicans will lose the gay and Mexican/Latino blocks. Republicans lose all the West  and East Coast Ultra Liberals Republicans will lose the lower income groups as they demand their entitlements (from the Democrats):  free money, food stamps, free phones, subsidized health care. The Republicans Got Nothing.
Forecast:  Democrats win by a landslide.
__________
The Little Bond eBooklet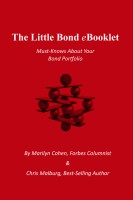 I have been following Marilyn Cohen, a bond guru, for more years than I care to mention.  She is an expert in the field of bonds and I have obtained my bond education from her books, speeches, and online postings.  Marilyn has posted a FREE mini eBook talking about municipal and corporate bonds.  If you R interested here is the link: https://www.smashwords.com/books/view/531948
  Go To Core Portfolio Click Here.  Want to send comments? Go here.